Hill City KAY would like to invite you to this year's Trunk-or-Treat on Friday, October 29th. The Trunk-or-Treat will take place at the Hill City Junior-Senior High School front parking lot from 4:00-5:30 PM, following the Grade School's Halloween parade. The high school and junior high KAY clubs are asking for a free-will donation of a non-perishable food item or toiletry product as admission, which will be donated to the Ringneck Roost Pantry. Everyone is welcome and we hope to see you there!
The KAY clubs ask that you please keep your costumes and displays G for our youngest community members, and for adults to not wear a costume mask that fully covers the face.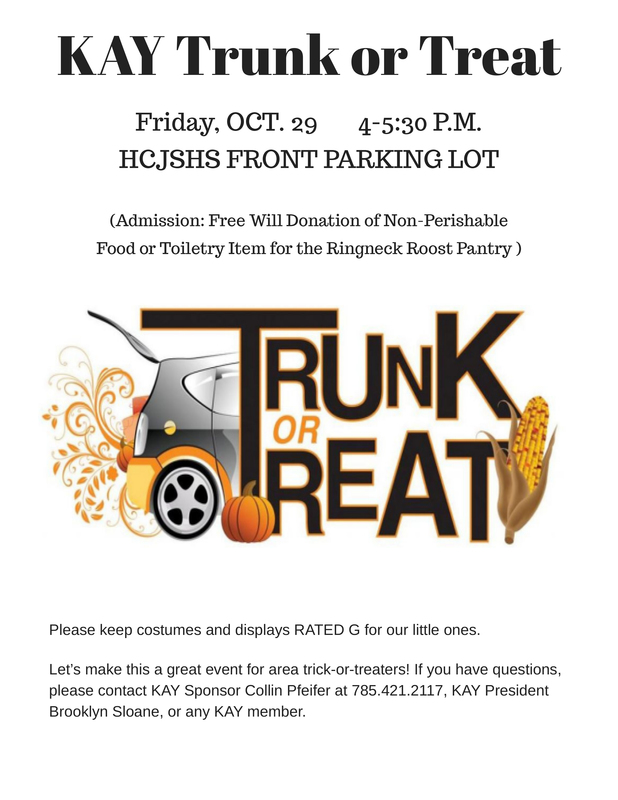 All community members, clubs and businesses are welcome to set up a trunk. Those wishing to set up a trunk for the Trunk-or-Treat may begin setting up after 1 PM on the day of the event. Any questions can be directed to KAY President, Brooklyn Sloane, or to KAY Sponsor, Mr. Collin Pfeifer, at (785)421-2117.