Parents: USD 281 will have an early release on Wednesday February 2, 2022. All students will be dismissed and the buses will run at 1:30 pm. We will have staff/volunteers available if you are not able to make other arrangements for your child for that two hour time period, however, buses will only run at 1:30 on early release days. The early release is for teacher training on Fastbridge and curriculum. Thank you all for allowing us to work with your children.

Game information update. The JV Girls basketball game on Tuesday, Jan. 25 will start at 5:00 at the Jr./Sr. High gym. The JV Boys game will start at 4:30 at the Grade School gym. WE ARE RINGNECKS!!!

MCL Basketball Tournament Update: The Lady Ringnecks will play on Saturday at approximately 11:30 in the Plainville High School Gym and boys will also play on Saturday at approximately 11:30 in the Cardinal Gym in Plainville. WE ARE RINGNECKS!!!


Updated MCL Basketball information. The Lady Ringnecks will be playing on Thursday, 1/20/22, in Stockton at 3:00. The boys team will also play on Thursday in Stockton at approximately 7:30. WE ARE RINGNECKS!!!


Here is the information for the upcoming High School and Jr. High Wrestling dual at Wakeeney this Thursday, Jan. 13. Wrestling will start at 5:00. WE ARE RINGNECKS!!!

Graham County USD 281 has made a change in the School Calendar. January 3, 2022 will be an inservice day for teachers. Students will return to school on January 4, 2022. Thanks, Dale Deighton Superintendent USD 281

USD 281 will be dismissing school, at both buildings, on Friday, Nov. 19 at 12:30.

From HCJSHS: The Sub-State football game on Friday, Nov. 19 in Meade, is scheduled to kick-off at 6:00 pm. There will be a pep bus going to the game, there are 48 seats available on the bus and it is scheduled to leave at 2:00 from the Jr./Sr. High School. The cost to ride the pep bus is $5.00. The entry fee for the game is $7.00 for adults and $6.00 for students. WE ARE RINGNECKS!!!

HCJSHS: The Sectional Football game at La Crosse will be Friday, November 12 at 7:00pm, gates set to open at 5:00. Tickets will be $5 for students and $7 for adults. Enter by using the gate East of the FB field (Go east on 5th street, then turn south on Sunset street). If you use the gate on the West side (3rd street) you will not be able to drive around to the east side. Spectators please stay off of the track and behind the fence. Media for the game is as followed; Radio stations 93.5 FM and Hays 101.9FM. Openspaces will be live streaming the game. WE ARE RINGNECKS!!!

Tonight's Board of Education meeting has been postponed. It will take place Monday, November 15 instead.

From HCJSHS: The high school Bi-District Football game against Montezuma-South Gray will be Thursday, Oct. 28 at 6:00. Come out and support the Ringnecks.!!! WE ARE RINGNECKS!!!

From HCJSHS: We are experiencing phone and internet outage at the school at this time.

From HCJSHS: Here is the information for the MCEL Volleyball tournament tomorrow, Oct. 9 in Stockton. We Are Ringnecks!!!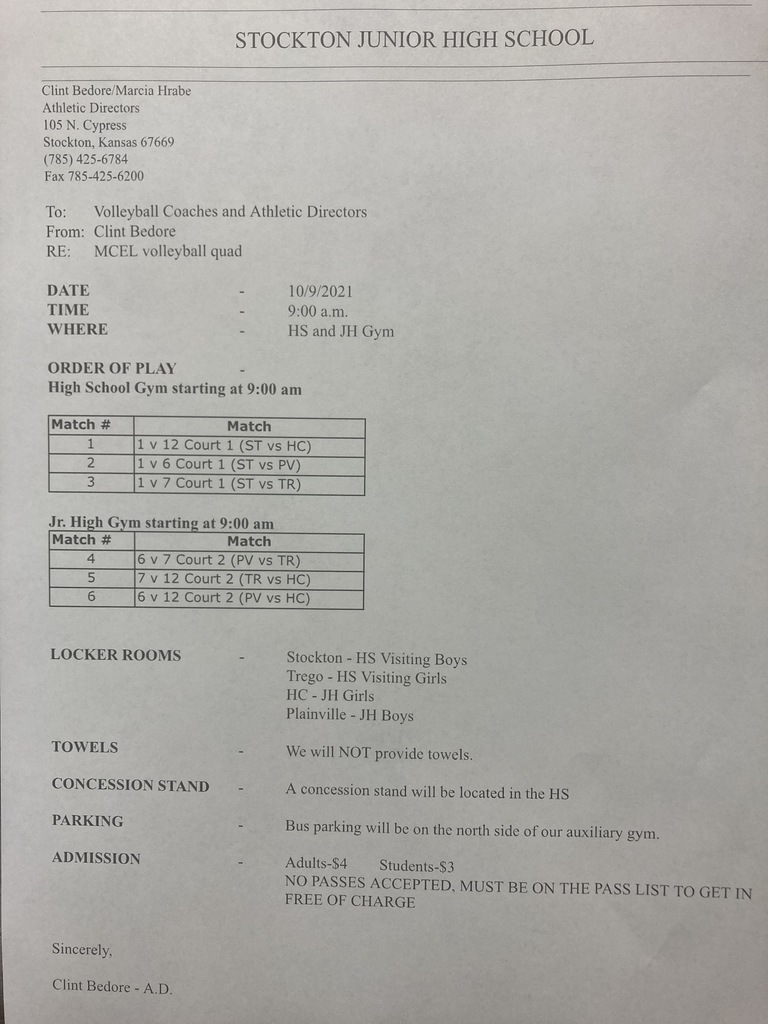 From HCJSHS: There is a change in start time for the high school volleyball matches in Stockton on Tuesday, Oct. 5. The start time is 5:00 p.m. WE ARE RINGNECKS!!!
October is National Bullying Awareness Month! Kansas State Board of Education has declared October 4-8 as Anti-Bullying Awareness Week. The grade school will be participating in daily themes to promote safety, awareness, and support for each other. This years theme is "Choose Peace". If you see something or hear something, SAY SOMETHING! #ChoosePeace #AntiBullyingWeek2021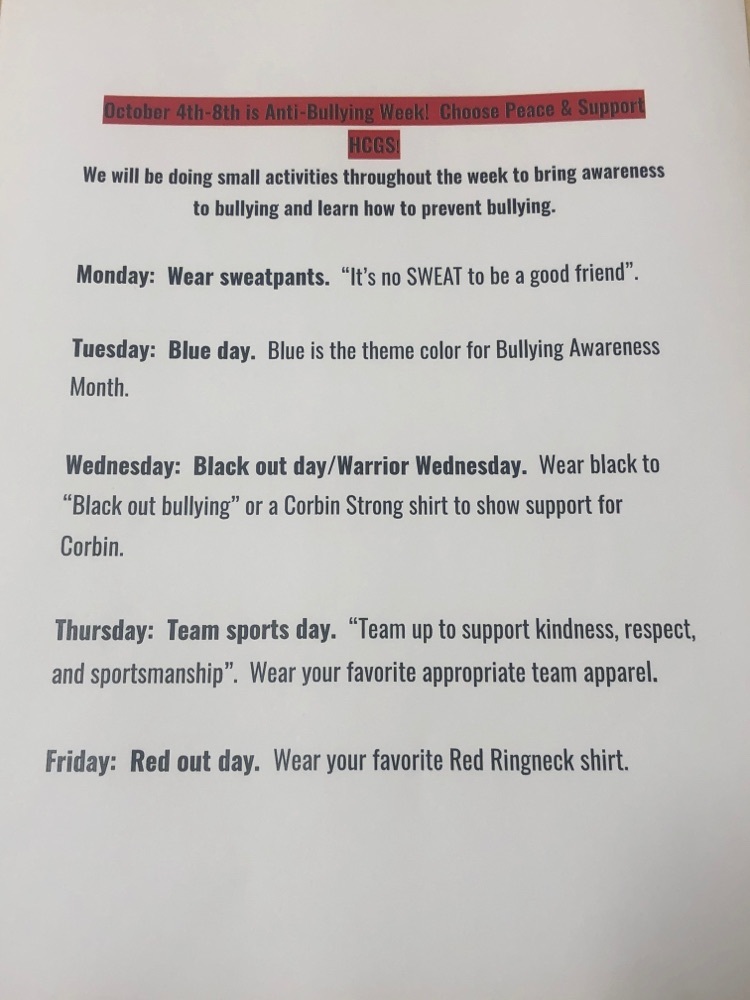 STUCO attended a leadership conference in Plainville to learn how to be positive influences on social media. #icanhelp #seekthepositive

From HCJSHS: Due to a power outage in Wakeeney, the Jr. High Volleyball matches scheduled for today, Sept. 13, in Wakeeney have been cancelled.

From HCJSHS: Join me in congratulating our 2021 Homecoming Royalty. Raygan Garrison, Derek Keith, Toria Larson, Jarien Ashbaugh, Leah Lindenman, Carter Underhill, Caelyn Pimlott, Cody Presley, Brooklyn Sloane, and Ayden Nickelson.